🌿 Digestion Promoting
🌿 Natural ingredients
Regular price
Sale price
€3,50 EUR
Unit price
per
Sale
Sold out
🎁 First Order? Use code "NEW10" at Checkout for 10% DISCOUNT
Ingredients

Camellia Sinensis / 7 Year Fermented Yunnan Shu Pu-Erh

Dried Mandarin (Chen Pi)
How do you make this Ganpu tea?

1. - You can brew this tea in 3 different ways:

-The entire mandarin put in a teapot and then pour over it with hot water 99°C.

-You can poke holes in the shell with a knife so that the water can enter the tangerine faster and it will pull faster.

-You can break the tangerine into pieces and mix it together with the Pu-Erh to get the most flavors out of the Ganpu tea.

2. Do the whole tangerine or the broken pieces of tangerine with the Pu-erh tea in your Gaiwan or Teapot of 100ml.

3. Wake up the tea door 80°C to 90°C water pour over the Mandarin Pu-erh tea and to dispose of it immediately. It causes the tea to awaken and is ready for its first infusion.

5. Enjoy now of the nice smelling wet tea leaves. (The aromas have now changed)

6. Now infuse the tea with 95°C to 99°C waterr one let infuse for 20 seconds. Count an additional 5 seconds with each subsequent infusion.

7. Decant the tea in your cup or Gong Dao Bei (carafe)

8. Enjoy your nice cup of Mandarin Pu-Erh tea.

You can certainly infuse this Mandarin Pu-Erh another 10x, adding 5 to 10 seconds each time. (According to your own taste needs)

Dosage

1 Mandarin

of

5 g per 100ml water


Infusion time
1e) 20 sec

2e) 25 sec

3e) 30 sec

4e) 35 sec

5e) 45 sec

6e) 60 sec

7e) 70 sec

8e) 80 sec

9e) 90 sec

10e) 100 sec


Number of Infusions

10

Temperature
99°C
Which water do you use best?

Water is a very important part of making tea and herbal infusions!

The best water is soft, mineral-poor with a neutral PH value (= 7PH neutral) and a low Redox number.Use water with a residual value below 50mg/l and a high redox potential.

Water with a lot of residues are waters from which many antioxidants have disappeared.

Some brands that are good for teas and herbal infusions are: Montcalm; Mont Roucous; Glacier and Spa.
How do I store loose leaf tea?

You keep loose tea best at room temperature, dry and in a dark sealed tea tin. JYou can always put a desiccant such as a silica gel pad in the tea tin so that it absorbs any moisture in the tea tin. 

This way loose tea can stay good for a very long time. Also, nothing happens to the smell, color or taste for a very long time. Because tea is an unrefrigerated product, the shelf life is extra long.

So keep the tea in the cupboard or in another dark place, but it is best not in the kitchen because a lot of odors and evaporation take place in a kitchen.
Share
View full details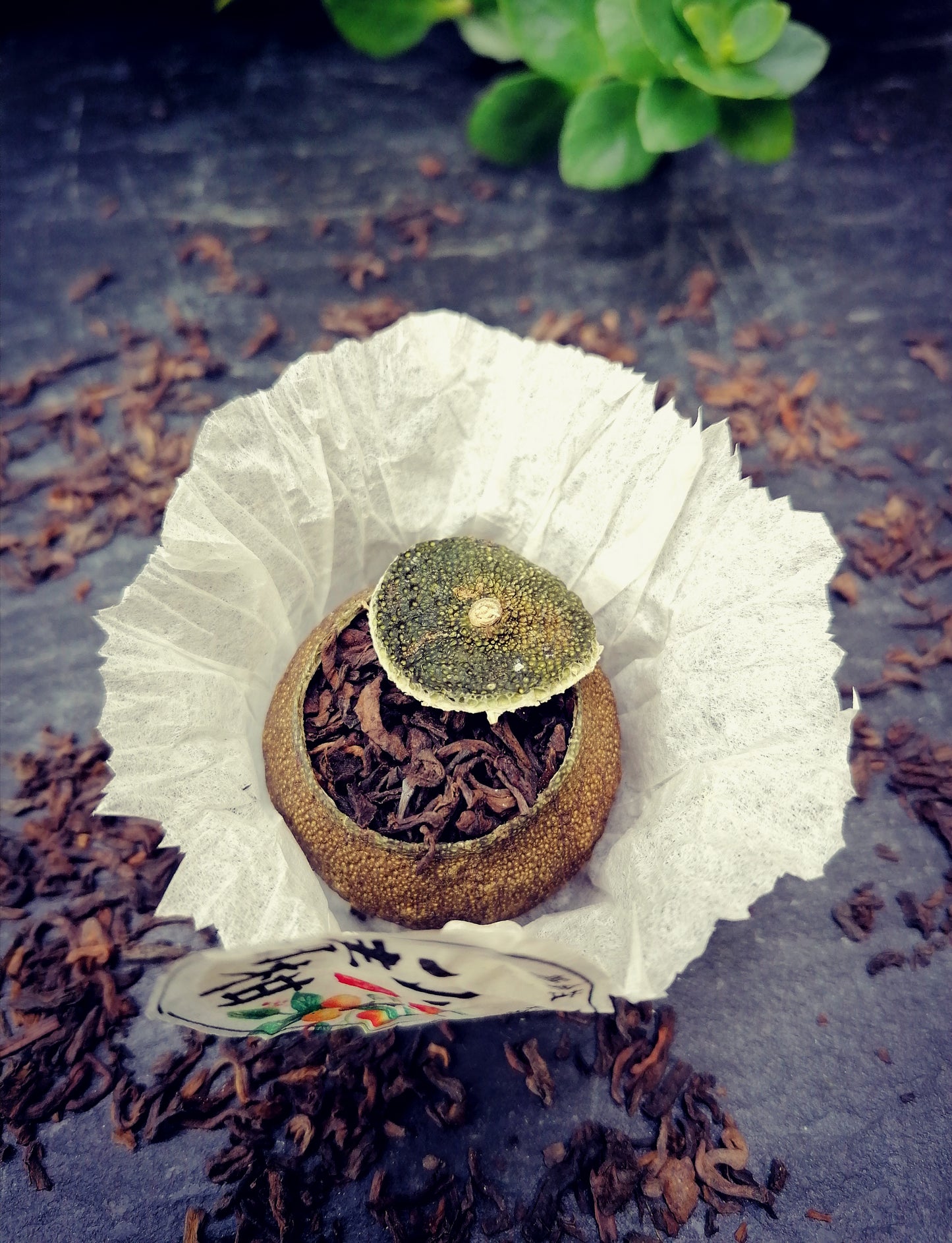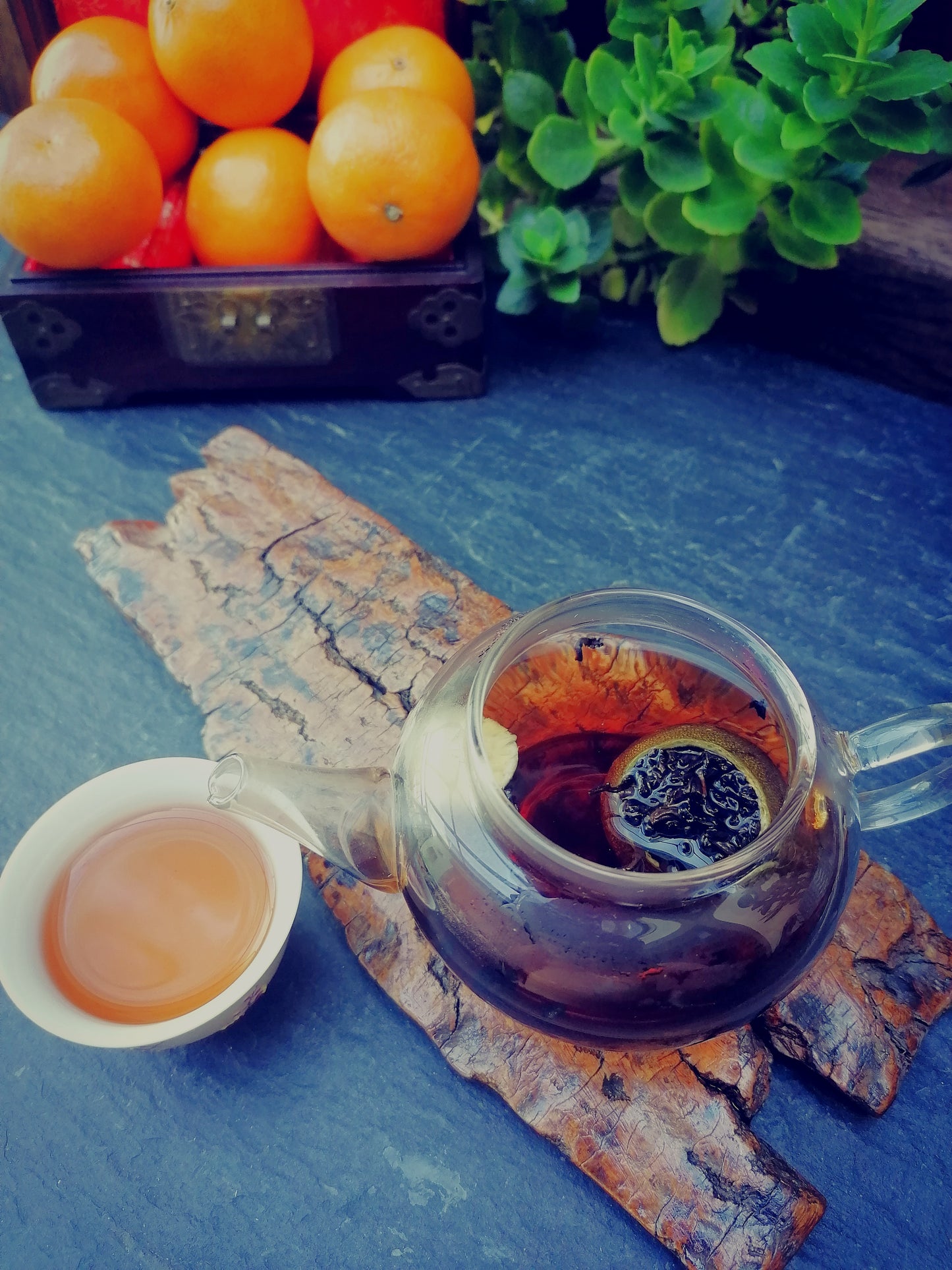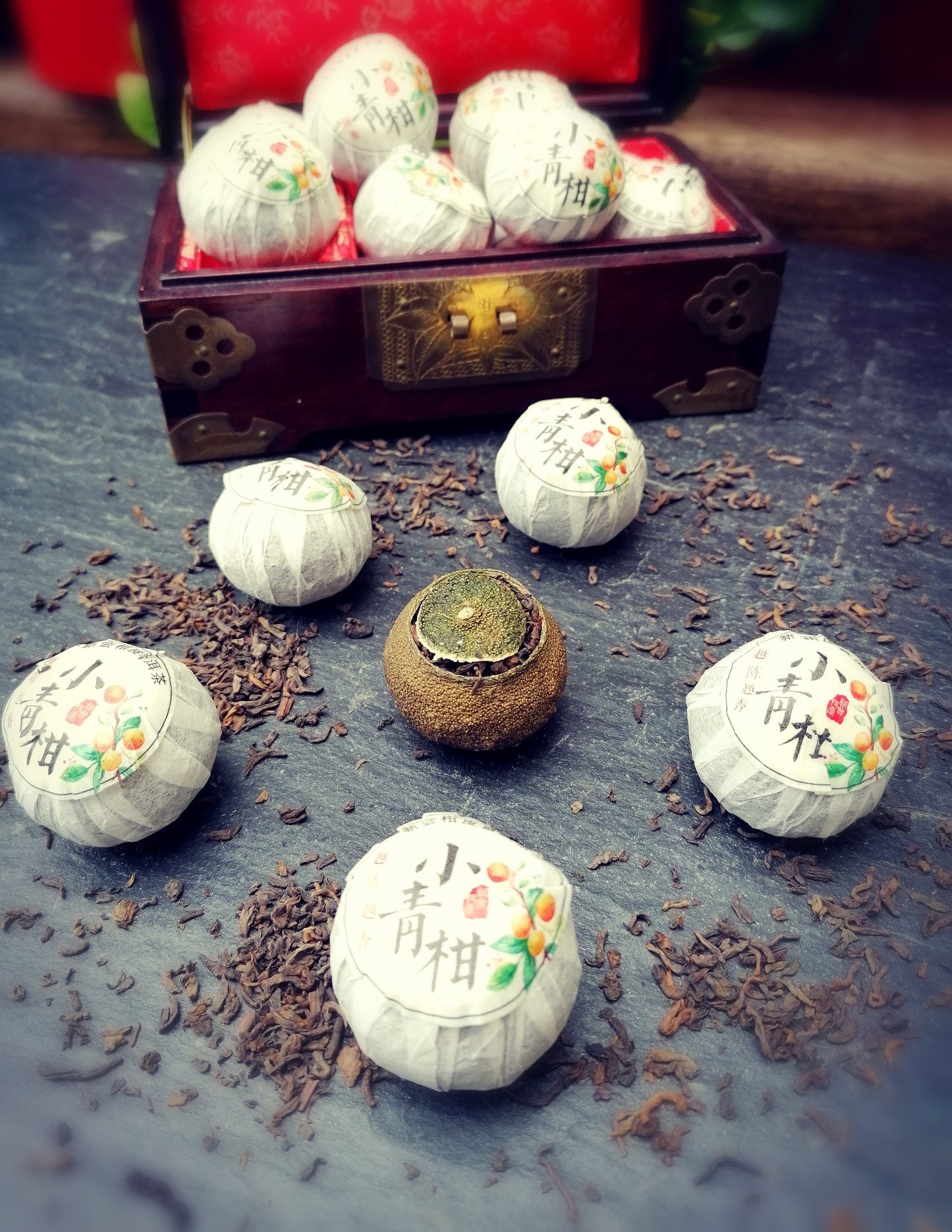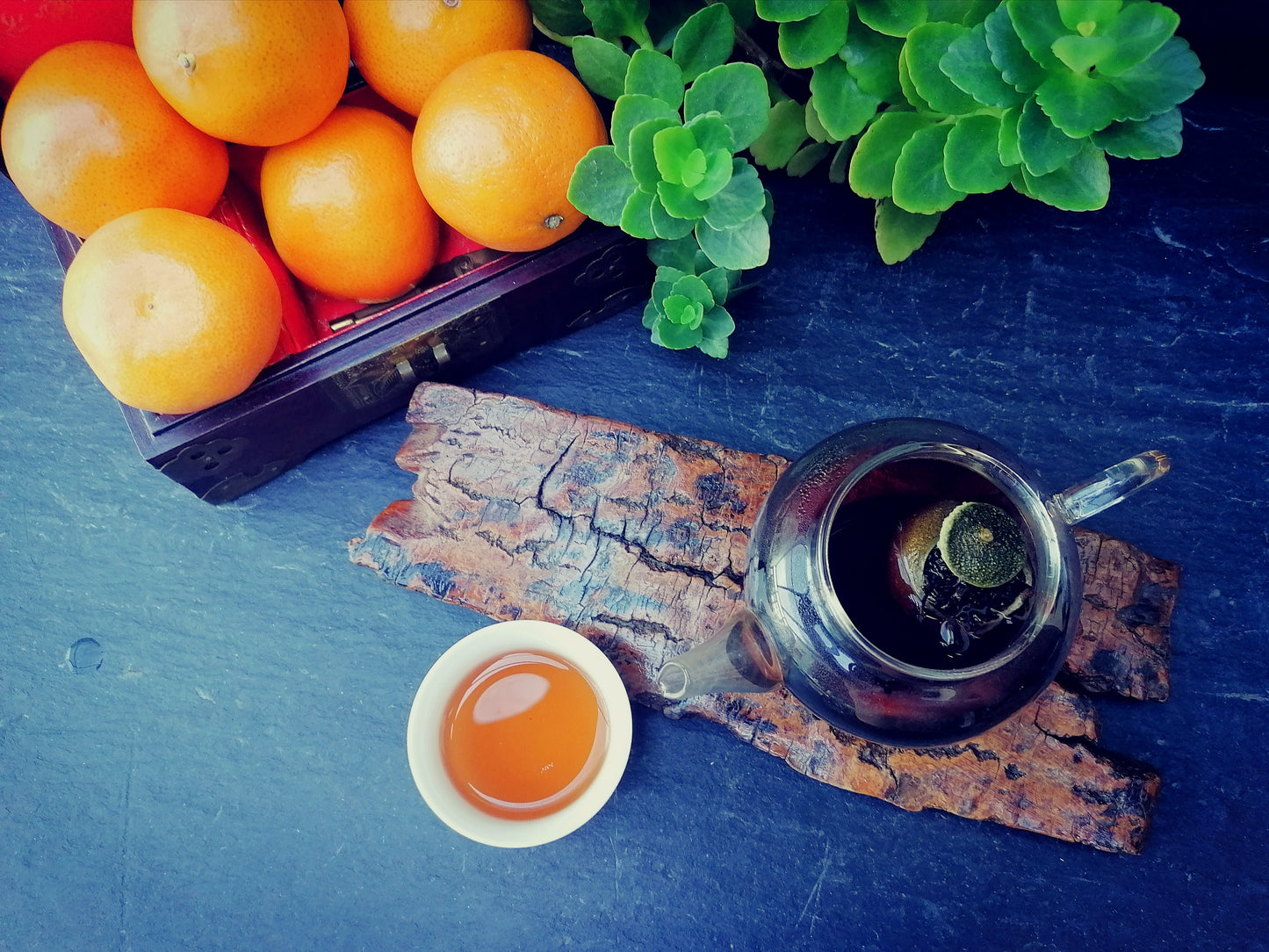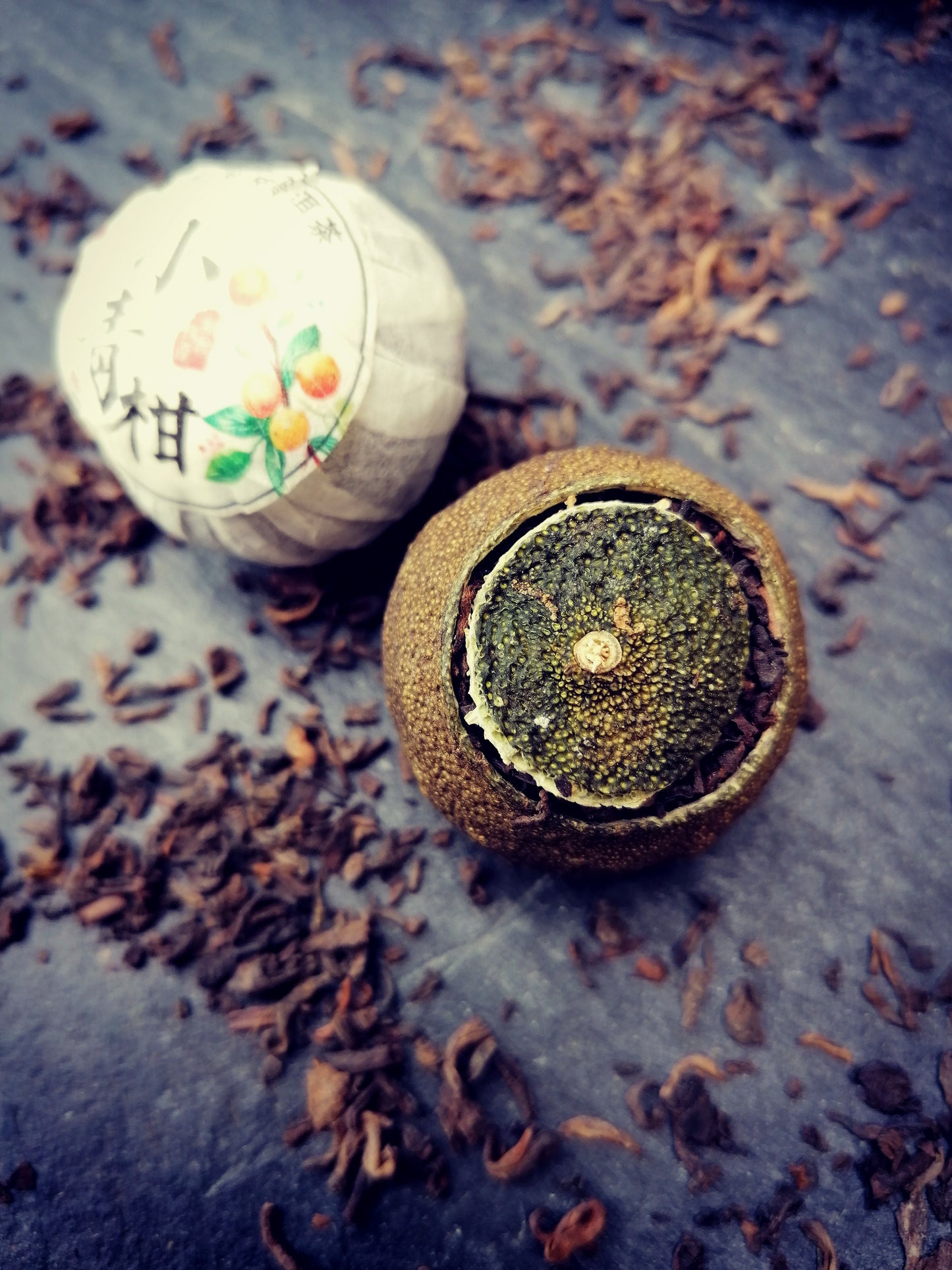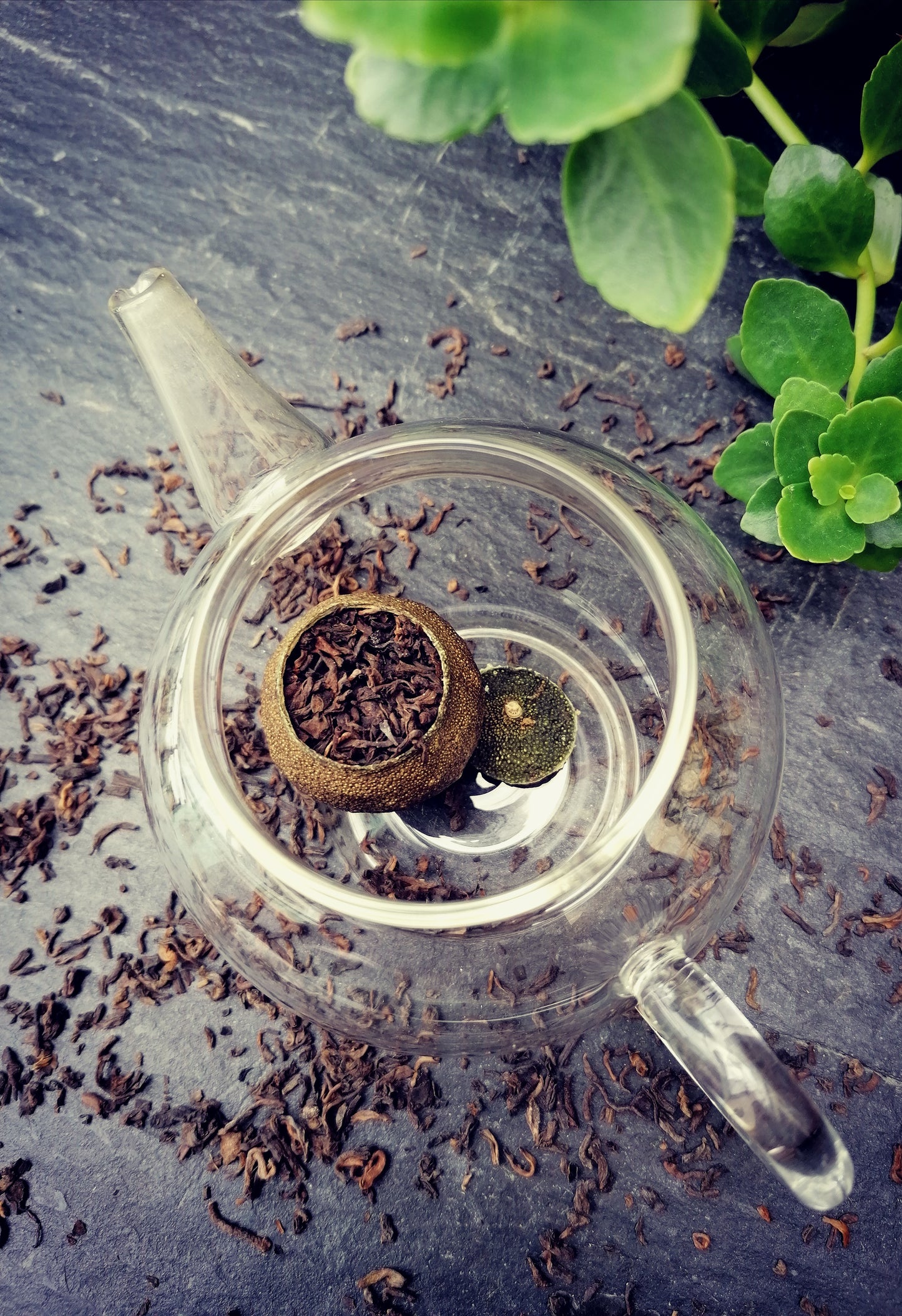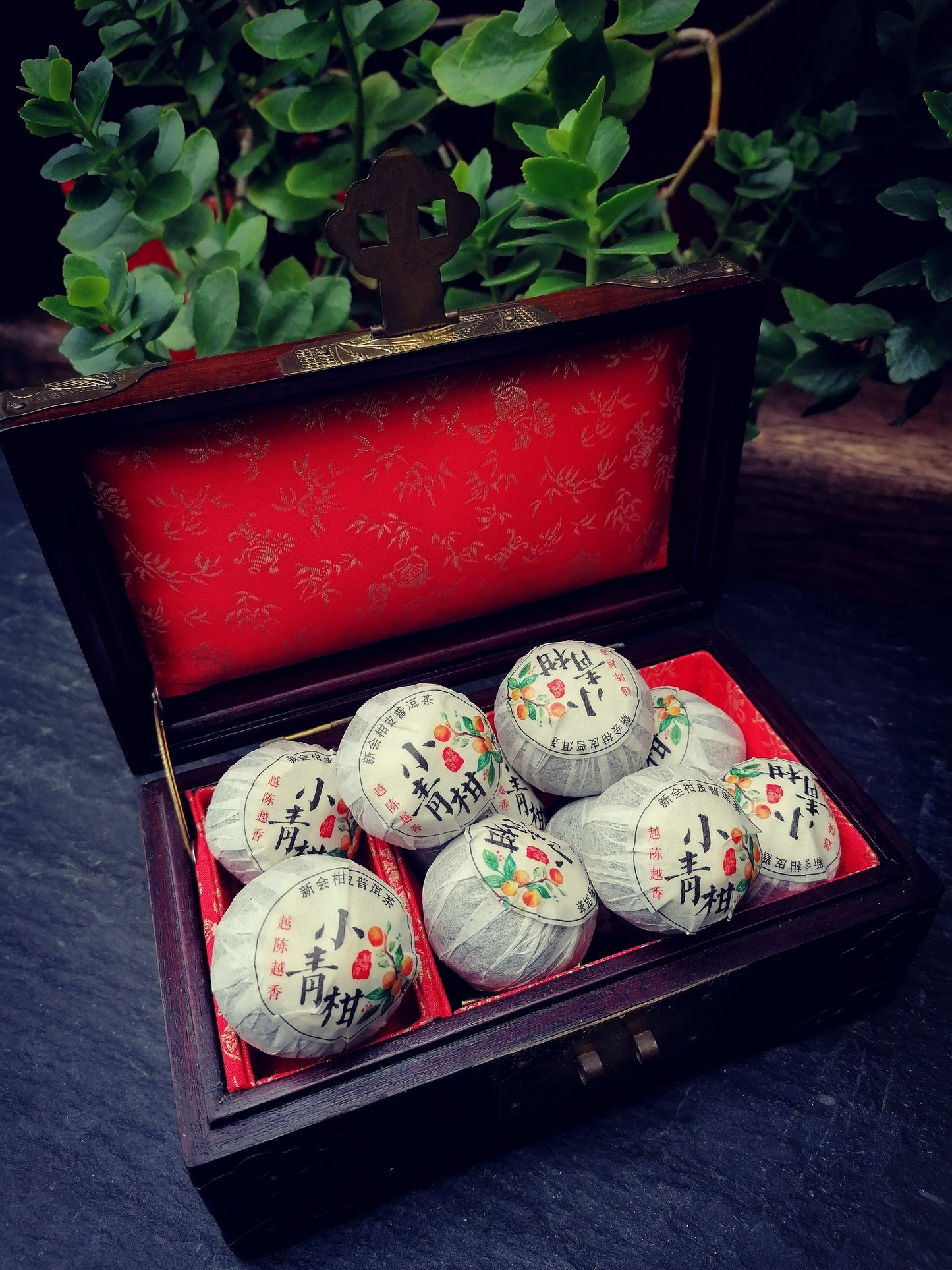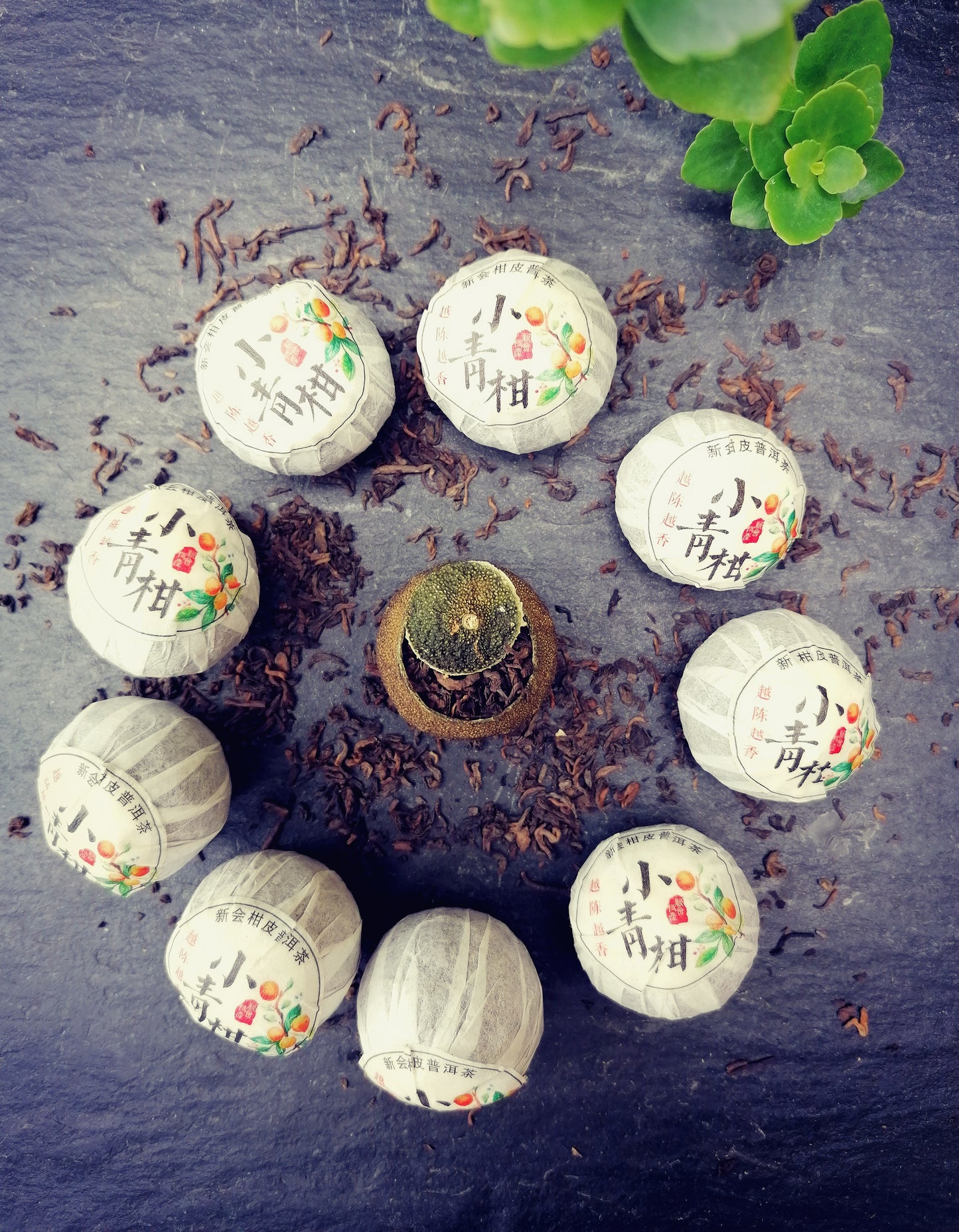 Fast delivery

Ordered before 11am is shipped the same day! Enjoy your delicious cup of tea the next day!

Secure Payment

Secure Payment via Stripe Payments :

Banccontact , iDEAL , Mastercard, Pay Pal , Visa , Apple Pay , Google Pay

Free Shipping

Free shipping from €40 for BE and €65 for NL, LUX, DE & FR

Free Taster

Get a FREE Taster with every order
Xinhui Pu Erh Mandarin 7 years old
A small green tangerine from Xinhui filled with a 7 year fermented Pu-erh tea from Yunnan, also sometimes called as "Ganpu Cha".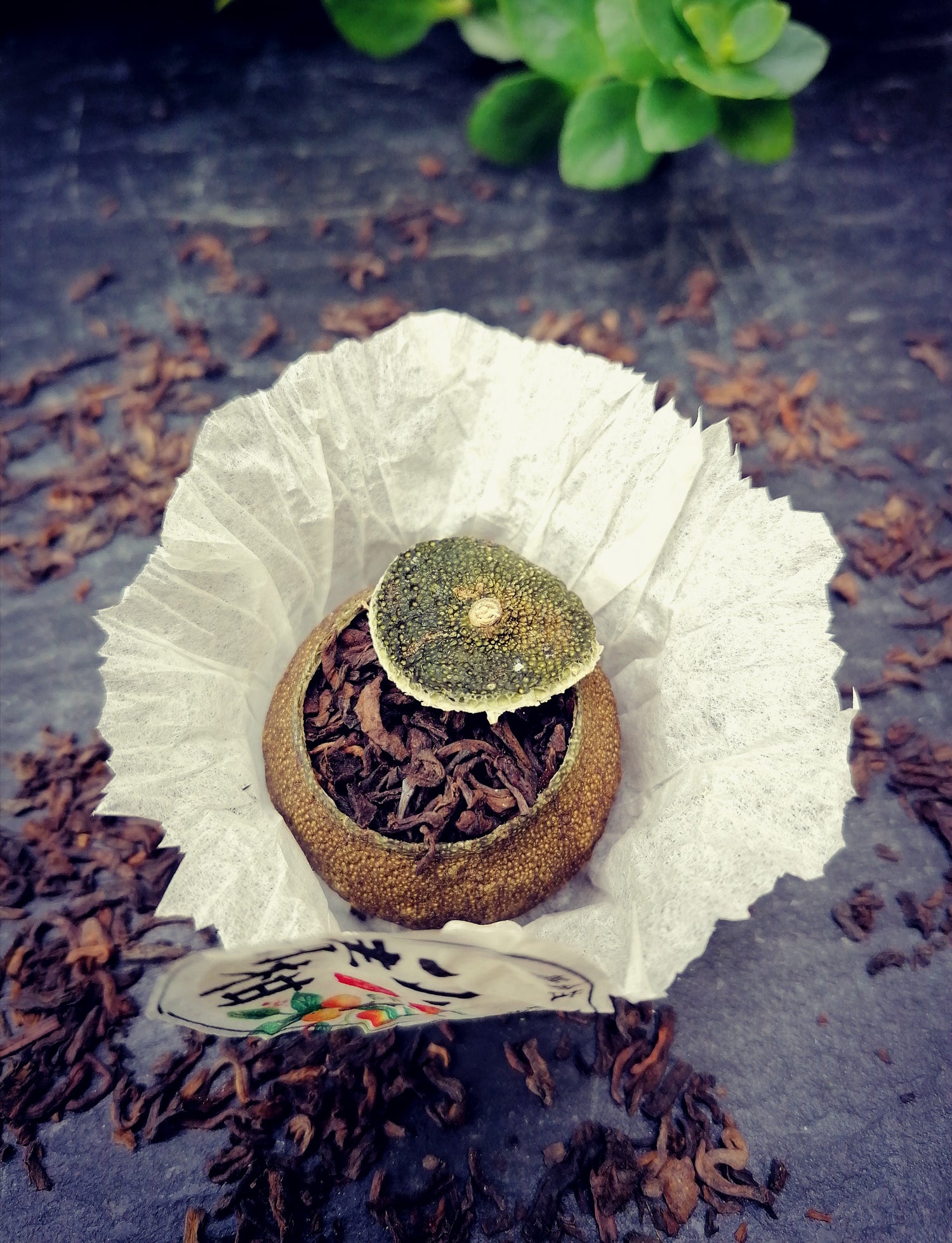 A magical little unique mandarin orange
"Ganpu tea" is a ripe pu-erh (Shu Pu-Erh) stuffed in the dried peel of a tangerine. The best and most valued mandarins come from Xinhui, in southern China's Guangdong province. It is believed that the peel of Xinhui mandarins has a health effect and that the older the peel, the higher its value.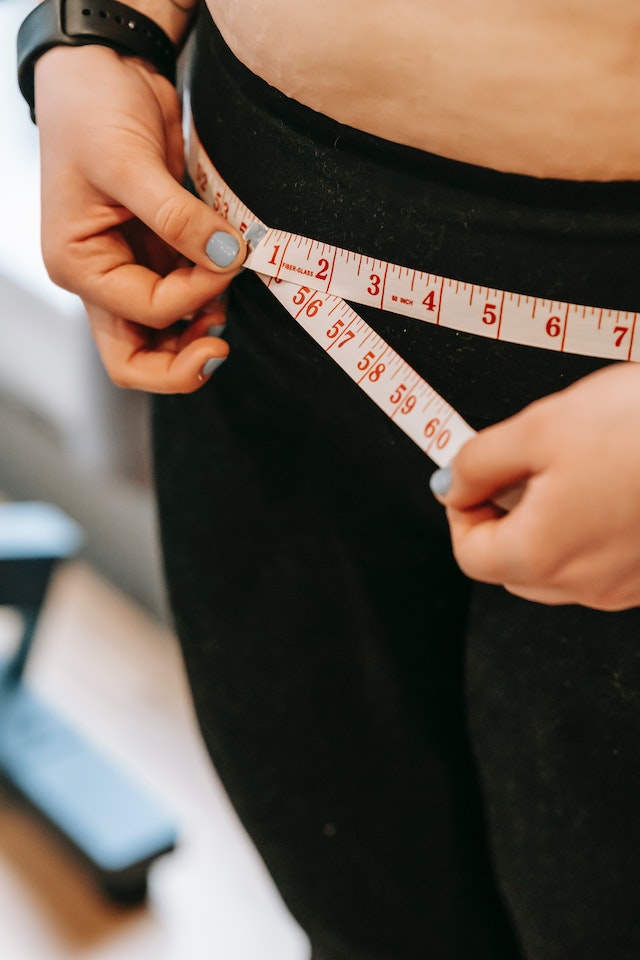 This is not only a truly unique tea, it is also good for health:

Can Help With Digestion
May help lower blood cholesterol levels
Helps with weight loss
"A perfect combination of slightly sweet and spicy"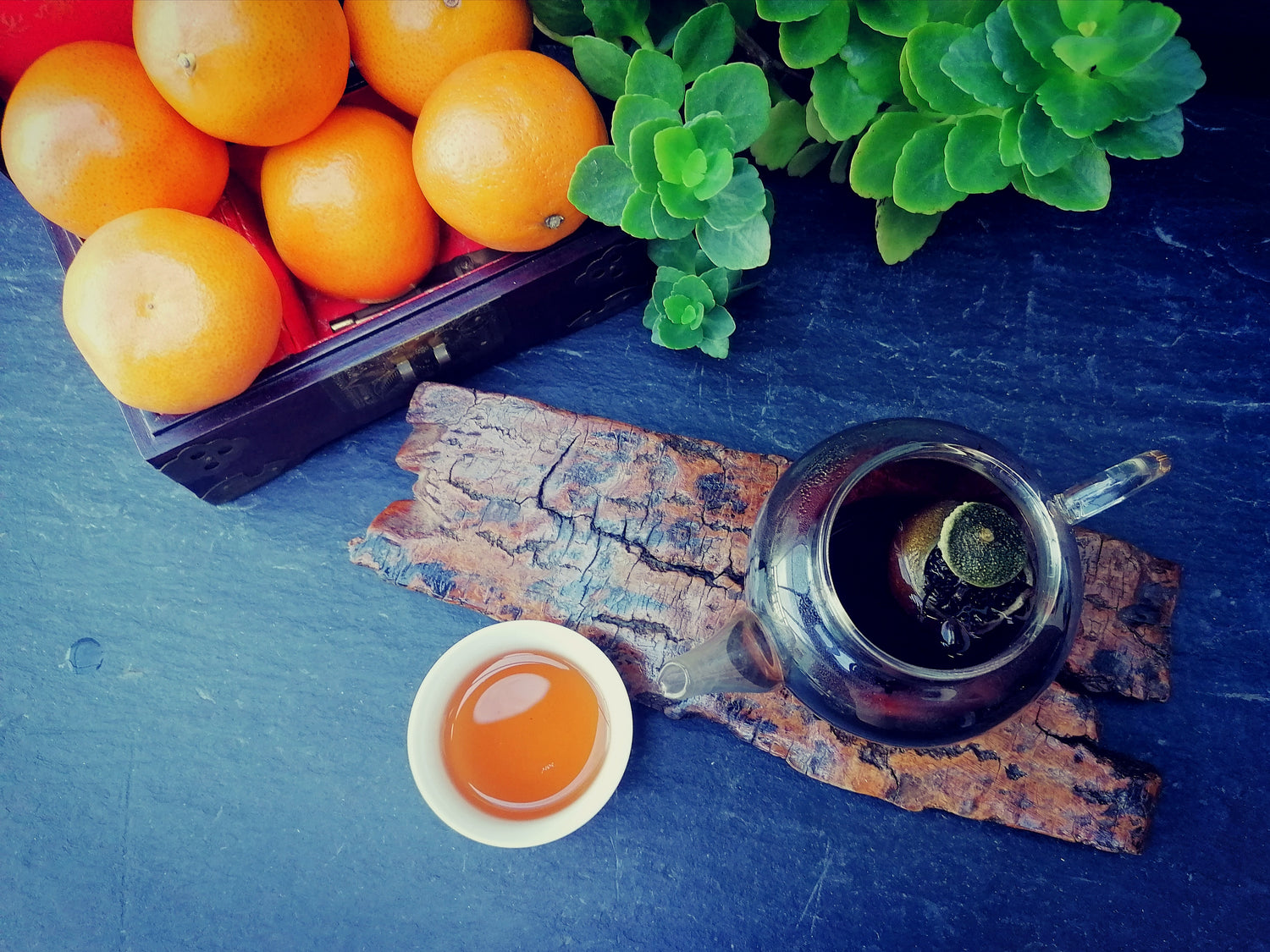 A wonderful interplay of earthy tones and citrus flavors
The advantage of this Ganpu tea is that the ripe Pu-erh (Shu Pu-Erh) continues to ripen along with the mandarin and on the way to blend the aromas and flavors, softening the earthy taste of the Pu-erh and absorbing the citrus flavor of the mandarin. A perfect combination that makes this tea slightly sweet and spicy. When served hot, it is warming; when served ice cold, it is refreshing and spicy.
Each tangerine can be pulled multiple times (easily 10 times) and each infusion releases more of that spicy sweet earthiness. The weight of the mandarin can vary between 10 and 13 grams and has a diameter of about 3 cm.
You can brew this tea in 3 different ways:

The entire tangerine in a teapot and then pour over it with hot water 99°C
You can poke holes in the shell with a knife so that the water can enter the tangerine faster and it will pull faster.
You can break the tangerine into pieces and mix it together with the Pu-Erh to get the most flavors out of the Ganpu tea.

Give it a try to see what your favorite way to drink Ganpu tea is.

Origin                                 

Mandarin : Xinhui , Guangdong Province , China 🇨🇳 

Shu Pu-Erh: Yunnan Province, China 🇨🇳                                    

Fermentation

Fermented for 7 years

Caffeine

High

Pick                                                               

Bud and one or two leaves  

Dosage     

1 tangerine   

of

5g/100ml  water    

Temperature                                                                     

99°C                                                                     

Infusion time  

1e) 20sec

2e) 25sec

3e) 30sec  

4e) 35sec   

5e) 45sec     

6e) 60sec      

7e) 70sec

8e) 80sec       

9e) 90 sec

10e) 100sec                                    
Made with love

Our herbs are carefully selected and put together and weighed per pack, so that we can always guarantee the same amount of each herb per pack. We do not make a herbal blend in bulk and then distribute it on the packaging.

Premium Quality

Our herbs come from natural cultivation and from specialized herbalists.
Good to know
Good to drink:

After or during meals to stimulate digestion.
During workouts to help with fat burning

Do not drink:

During pregnancy and breastfeeding

If you are allergic to the ingredients

Are you in doubt ?

Then don't forget to consult your doctor, healthcare provider or a registered TCM practitioner, especially if you have pre-existing health problems or need to take medication.
Let customers speak for us
Now also enjoy this exceptional and delicious tea that will make your taste buds dance.
Order your Xinhui Mandarin Pu erh today and enjoy its incredible taste.
! Limited stock, unique opportunity to taste this popular and delicious Ganpu tea from China!  
At Wellness Tea, we stand behind the quality of our products with our satisfaction guarantee.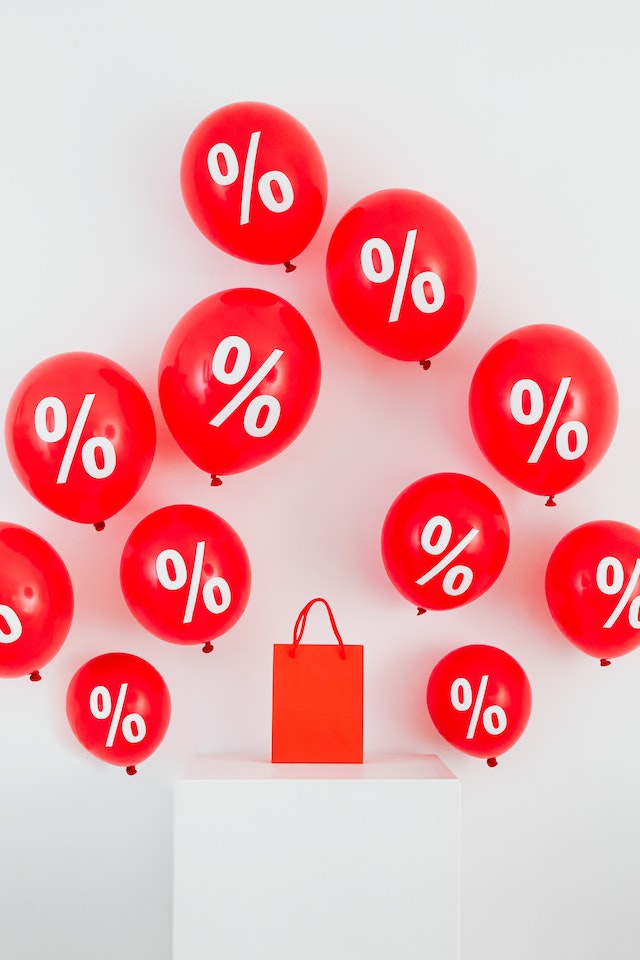 Looking for a great deal on your first purchase?
By the code NEW10 Use it with the checkout, you not only get an exclusive discount from 10% on your first purchase, but you also get the chance to discover our premium tea blends at a fraction of the price.
Our teas are carefully and expertly blended to provide a unique taste experience you won't find anywhere else. So why wait? Start your tea journey with us today and enjoy the benefits of our premium teas with a special discount!
Regular price
From €3,50 EUR
Regular price
Sale price
From €3,50 EUR
Unit price
per